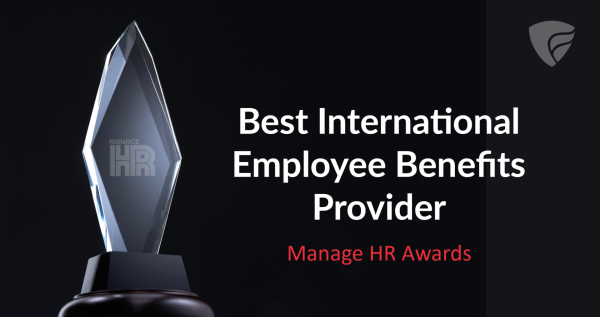 October 30, 2023
Regency Employee Benefits Crowned "Best International Employee Benefits Provider" at the Manage HR Awards
In a recent accolade that reflects our dedication to delivering exceptional services, Regency Employee Benefits has been recognized as the "Best International Employee Benefits Provider" at the prestigious Manage HR Awards. This accomplishment underscores our unwavering commitment to customer satisfaction and our relentless pursuit of innovation in the benefits landscape.
The Manage HR Awards, revered as a benchmark for excellence in human resource management, highlight the contributions of organizations that go above and beyond to support their clients' needs. Regency Employee Benefits stood out among a plethora of competitors, resonating with the awarding body due to our holistic approach to employee benefits and a keen focus on tailored customer service.
"Our mission has always been centered around understanding and meeting the unique requirements of each client. Winning this award is a testament to our team's hard work and dedication," said Nuk Foster, Director of Regency Employee Benefits, expressing gratitude for the recognition.
Regency's approach to employee benefits is not just about providing the standard offerings; it's about delivering additional benefits that genuinely make a difference. This includes our comprehensive wellness programs and continuous educational webinars aimed at enhancing employee satisfaction and overall well-being. By offering such diverse benefits, we ensure that our clients' teams are not just insured but also well-informed, well-supported, and truly cared for.
One of our key differentiators in the market is our commitment to customer service. We believe that every touchpoint, be it a phone call, email, or face-to-face interaction, should be a reflection of our dedication to serving our clients. This means ensuring queries are addressed promptly, solutions are provided efficiently, and every client feels valued.
Looking forward, we remain committed to setting even higher benchmarks in international employee benefits provision. As we celebrate this award, we remain aware that our journey does not end here. Our focus is unwavering – to continuously evolve, innovate, and deliver unparalleled services to our esteemed clients.
We extend our sincere gratitude to the Manage HR Awards committee for this honor and to our dedicated team of professionals whose hard work and commitment made this possible. Furthermore, we thank our loyal clients for entrusting us with their needs, as it is their faith in our services that truly propels us forward.
To take advantage of our award winning services, visit our website
Together, we aim to shape the future of employee benefits.
With its firm commitment to service and excellence we are
proud to say we work hand in hand with this reputable company.
- Medilink
Simple, straight-forward, very efficient.
- Global Health Insider Article
The only company offering full support when other companies aren't.
- The Thaiger
Rated highly for customer-focused approach.
- ExpatGo