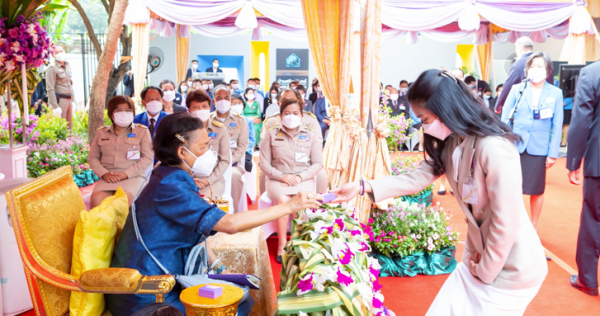 February 03, 2023
Thai Royal Family recognises Regency Assurance for supporting FSCC Foundation
February (2023), global pensions and insurance services company, Regency Assurance, was invited to meet Her Royal Highness Princess Maha Chakri Sirindhorn, Honorary President of the Foundation for Slum Child Care at an event to commemorate their 40th anniversary.
Download PDF: CSR Program Factsheet
Royal Patronage
Her Royal Highness, UNESCO Goodwill Ambassador for the empowerment of minority children through education since 2005, thanked representatives of the Foundation and supporters, including Regency's Nuk Foster, UNICEF, BNP Paribas, KPMG, Bank of Thailand and others.
The choice of venue was pertinent, as the Baan Srinakarin Day Centre in Bangkok (Thailand) underwent renovation in 2020 as a direct result of the support of donations. For more than 40 years, the Foundation for Slum Child Care has been under the royal patronage of Her Royal Highness Princess Galyani Vadhana Krom Luang Naradhiwas Rajanagarindra.
How the FSCC began
The Foundation for Slum Child Care was founded by Kru Prateep Ungsongtham who has first-hand experience of being raised in the Klong Toey slum in Bangkok. As a 16-year-old student, she noticed that other children didn't have the opportunity of attending school, so she started a 'one baht a day' school below her small home. 
Rockefeller Award for Outstanding Contribution to Mankind
Kru Prateep's work has been recognised internationally and she has won numerous awards, including the John D. Rockefeller Youth Award for Outstanding Contribution to Mankind (1981). FSCC was founded in the same year using the award money and with the help of fellow founders. They had identified the need for day care facilities, as even though the 'one baht a day' school was expanding, many students were missing school to care for their younger siblings. FSCC began providing healthcare for the young children and day care facilities for babies and infants.
The FSCC's mission and work
The Foundation works to improve the quality of life for young children who lack opportunity. They run four day care centres in disadvantaged neighbourhoods of Bangkok. Each day, they provide direct support to over 200 children up to five years of age, through the provision of nourishing meals and a well-designed program of educational activities. They work with the families on a daily basis, imparting skills for the best care.
Beyond meeting the children's basic needs and supporting families, the foundation works to a model of sustainment where they strive to create 'social togetherness' within the communities. Their support reaches thousands of children a day. They connect with community leaders and members and have bespoke community volunteer roles.
Through their Pregnant Women's program, they support expecting mothers and fathers to prepare for parenthood and offer additional volunteer support. The Foundation also delivers certified courses to teachers and caregivers from across Thailand to help achieve high standards of care and education through the Good Teacher Network project.
Regency's Corporate Social Responsibility Pledge
Regency makes a strong commitment to working in partnership with local communities and contributing towards their development, especially in the territories it operates. As an international company operating in Thailand, the FSCC has afforded an impactful way for Regency to achieve this contribution.
As Regency's Head of Community Engagement, Kate Tebbet explains, "When I first met with the foundation's local leaders a few years ago, it was immediately clear to me that their work was designed by and led by people from the community. They were clear on the need and right on the solution. Their levels of care are high, and their approach is well-informed. They are incredibly passionate and their reach goes beyond supporting young children to bringing communities together."
The Foundation's work directly contributes to five of the United Nations Sustainable Development Goals in Regency's Corporate Social Responsibility Pledge; No Poverty, Zero Hunger, Good Health and Well-Being, Quality Education and Reduced Inequalities.
Ministry of Health Philanthropic Award
Over the years, the Foundation has since been recognised by national awards. In 2006, FSCC was chosen above 76 other charitable organisations to receive the Ministry of Health Philanthropic Award (Child and Family). A few months later, the Foundation was awarded the Ministry of Social Development and Human Security's annual award for 'Outstanding Private Organisation Working with Families'.
With its firm commitment to service and excellence we are
proud to say we work hand in hand with this reputable company.
- Medilink
Simple, straight-forward, very efficient.
- Global Health Insider Article
The only company offering full support when other companies aren't.
- The Thaiger
Rated highly for customer-focused approach.
- ExpatGo