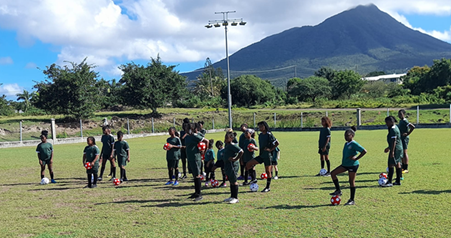 August 08, 2023
Regency Assurance shares news on the highly successful girl's football program it supported in Nevis
Regency Assurance shares news on the highly successful girl's football program it supported in Nevis
Late last year, Regency Assurance joined forces with the Nevis Island Administration's Department of Youth, to sponsor the expansion of their highly successful Youth Impact 12 Awards program. Global insurance and financial services company, Regency Assurance, congratulates Awardee, Alexandra Richards, for her design and delivery of the highly successful 'Girls Can Play!' program.
Download PDF: CSR Program Factsheet
Youth Impact 12 Awards program
Established in 2019, the purpose of the Youth Impact 12 Awards program is to recognise outstanding achievements of young people, inspiring the next generation of nation-builders. The sponsorship from Regency Assurance released funding to 12 past Awardees who are now realising their aspiring community initiatives. In 2022, Alexandra Richards was recognised for her exceptional work in the area of sports. She is the architect of 'Girls Can Play!'
Girls Can Play!
From her heavy involvement over the years in Sports across the Community, Alexandra was confident that many young girls would be interested in joining the football program she envisaged. In early 2023, 'Girls Can Play!' launched. The program was tailored to girls between the ages of 4-16 years old. Beyond learning football skills, the program offered personal development opportunities in skills such as public speaking and educational support with homework assistance.
Alexandra said "The homework assistance played a very integral part of the girls can play program. It is my belief that sports, and education must be partners, which will give athletes a much better opportunity to get scholarship. One of the fundamental things about the homework assistance was the fact it catered not only to the girls, but the boys were also included and had proven beneficial to all who participated. This initiative will continue at the beginning of the new school year. Special thanks to all of the former teachers who volunteered and sacrificed some of their valuable time."
A Star in the making
Alexandra is a Sports Officer at the Department of Sports, Nevis and a coach at the Hot Springs Bath United Football Club. Her multi-award-winning sports career started when she emigrated from the Dominican Republic aged six. Through sport she overcame the language barrier and made friends. Her talent in sports quickly became apparent in junior school, winning many medals and multiple school and national sporting trophies. She went on to represent Nevis at the C.U.T Games in Trinidad and Tobago in 2014.
Women in Sport
Regency Assurance's Head of Community Engagement, Kate Tebbet, said, "Creating more opportunities that empower young girls to participate football, traditionally seen as a predominantly male sport, is a great vehicle to break down gender stereotypes. 'Girls Can Play!' boldly does this and connects to the spirit of the United Nations Sustainable Development Goal on Gender Equality in our Corporate Social Responsibility Pledge. Much progress has already been made globally with FIFA's 'Forward Programme' and their partnering with UN Women in 2017, and 'Girls Can Play!' creates yet another channel for girls in Nevis to take their talents through to established national programs."
Youth Development Officer, Miss Aleyah Powell said: "Alexandra Richards, with her determination to spread her love for sports, organized a female football camp dubbed "Girls Can Play". The camp did well in increasing girls' interest in sports, mainly football, and aiding them in their academic and personal growth through after school homework assistance. Alexandra, along with her helping aides, worked hard to do their best with the participants of the "Girls Can Play" camp. We are extremely proud of Alexandra, especially as she secured an academic scholarship shortly after launching her project and had to depart for school. She remained committed to the task and ensured that her vision of the camp was realized."
Alexandra paid recognition to all partners who contributed to the success of this program, "I must say that the success of this program was due to my hard working coaches, the president of the Hotspring Bath United FC, our biggest stakeholders the parents who ensure that there was enough to eat at the end of each session. A heartfelt thank you to my main sponsor Regency Assurance who provided funding for uniforms and equipment. Department of youth must be commended for their guidance and support throughout this successful Girls Can Play Program."
In this recognition, Alexandra encapsulates all that is at the heart of Regency's ongoing commitment to seek out and contribute to partnerships with experts in local communities to create opportunities that inspire the next generation.
With its firm commitment to service and excellence we are
proud to say we work hand in hand with this reputable company.
- Medilink
Simple, straight-forward, very efficient.
- Global Health Insider Article
The only company offering full support when other companies aren't.
- The Thaiger
Rated highly for customer-focused approach.
- ExpatGo