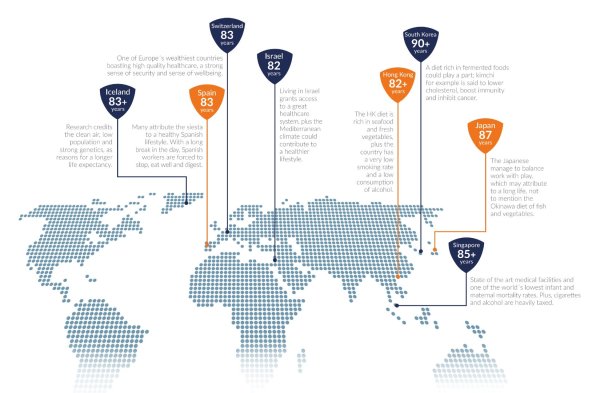 August 03, 2018
8 places people live the longest
Sharing figures from the 2017 World Happiness Report, Regency for Expats have rounded up 8 of the locations around the world where people enjoy a longer life than usual.
The excitement of a new life is enough of a reason for many of us to take the plunge and move overseas. But, in the midst of excitement and the flurry of getting settled into a new life, it is important for expats to keep in mind the financial risk and possible implications of living in another country.
There is nothing more important than your health and the wellbeing of your family, so careful planning is advised, as there is no better way to get peace of mind than ensuring your family is covered by the right expat health insurance plan and provision is made for their financial future, should the worst happen.  
Regency for Expats provides comprehensive Life Insurance protection for globally mobile individuals in more than 120 countries. By choosing Regency for Expats, you have peace of mind knowing that in the event of illness or even death overseas, you have a dedicated team to manage the practical and financial issues, anywhere in the world. 
With its firm commitment to service and excellence we are
proud to say we work hand in hand with this reputable company.
- Medilink
Simple, straight-forward, very efficient.
- Global Health Insider Article
The only company offering full support when other companies aren't.
- The Thaiger
Rated highly for customer-focused approach.
- ExpatGo